Mysore classes and workshops with Joseph Armstrong June, 9-11th 2023
▷

Friday, June 9th:  7am – 9.30am Led Ashtanga Primary Series
▷

Saturday, June 10th:  7am – 9.30am Led Ashtanga Primary Series.

2 opportunities to enhance your Ashtanga practice, with Joseph Armstrong (certified Level 2).

Join Joseph for a traditional Full Ashtanga Primary Series led class. Taught with Sanskrit counting and traditional sequencing, this class is meant to purify the body and strengthen the mind. You will embark on a therapeutic journey that leaves you feeling refreshed and full of vitality!
▷

Saturday, June 10th:  4pm – 6pm: Workshop Jump Back and Jump Through: Lightness and Strength.

So many students see the complicated transitional movements of Ashtanga Yoga and wonder: Is that even possible in my body? Jump backs and jump throughs require you to tap your muscular potential and embrace raw physicality. At the same time they require you to move your body with a nuance that triggers a sense of lightness. In this class we will break down the subtle body mechanics that make graceful transitions possible and then practice drills that get you connected to your base and the strength required to float.

We will detail both the fundamentals of these moves and also look at how they relate to more complicated arm balances. I once told my teacher that my arms were too short to lift up and jump back, so now a knowing smile comes to my face when I hear those same words from my students. This class will leave you feeling empowered, knowing that it may be hard work and a long journey, but you can jump back.
▷

Sunday, June 11th, 14h30-16h30: Workshop The Backbend Breakdown Workshop.

Expand the front body and open the heart. Create a firm base. Learn to lift, not collapse. Build tolerance for challenges. These are some of the lessons one moves through in backbending. In this workshop students will learn to strike the right balance between ease and effort. They will learn patience with adversity. We'll explore how dedication, determination and devotion relate to backbends and how confidence can result from steady practice.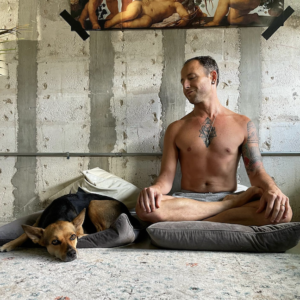 About Joseph Armstrong:
Joseph Armstrong teaches yoga rooted firmly in tradition but with an eye to the future. His search for a more present and peaceful life first led him to the practice in 2008. A few years later he was in India studying intensively.
After finally overcoming a long struggle with addiction, Joseph began experimenting with Ashtanga Yoga. He understood quickly that the lineage was calling to him to deepen his practice. He underwent a 2 year apprenticeship program at the world renowned Miami Life Center, continuing his education under his dear teachers Tim Fieldman and Kino MacGregor.
He also practices regularly with Paramaguru Sharath Jois in Mysore India,  where he was given his level 2 authorization. Joseph teaches yoga because attempts to do any and everything else ended disastrously. But when he finally devoted himself to his passion, he became an asset to himself and others. He hopes his practice allows him to be ever more loving and to exist gently.