Move From Love 2 Day Intensive with Meghan Currie June 24-25th 2023 Paris 
💥 First time in Paris, don't miss the opportunity to practice and learn with Meghan Currie 💥
Love is the buzz of all of Mother Nature. The warmth of the sun. The crystal light of the moon. The natural humming of the body. The ebb and flow of the breath. Love is the most simple thing, it's what's left when we can drop all the noise.
Every time we invest our energy, we create a ripple or a shift of some kind in the fabric of our lives.  We have the power to choose to move and create in this world from a place of love, or that of fear.
The key question to ask ourselves is, am I investing my energy driven from a place of love, or fear?  We have the choice to initiate action from the vibration of love, and when we do, we begin to flow with life, rather than against it.
Each workshop in the series will build upon the previous one, and all will be an infusion of breath focused fluid vinyasa sequences, personal introspection, and informative pauses to break down the intricate patterns of movement and complex postures. All interwoven with intentional dialogue and silent space to connect deeper within.
Join me for a playful journey into the depths of the self.  Move From Love is an opportunity to indulge in all the flavors of You! An expansive adventure into the inner layers, through the miracle of the body-mind.  
Let's gather to move, breathe, flow, simmer, grow and connect. Each session weaves together with the next to create a complete transformational journey, taking your practice to another level of deliciousness!
*As each practice builds upon the last, it is recommended to sign up for all 4 sessions. As a result of taking part in the entire weekend, you will see more expansive growth in your practice and a deeper integration of the practice into your life.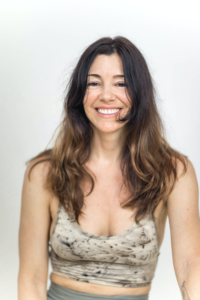 Meghan Currie is electric, potent, infectious. She is a creator, moulding the light and dark within herself into yoga classes and art which are expansive journeys through inner layers. She works with the powerful healing mechanisms of the body-mind, intuiting higher truths, deeper stories, in the service of revelation.
What to expect
There is a depth, an intensity to the experience of each practice with Meghan. Deliciously composed, intentionally sequenced, beautifully fluid; It is a journey through inner layers to heart and to truth. This kind of journey is revelatory, which means it shows you everything; Whatever there is inside of you that you have avoided or forgotten.
It is a process of unwinding, as though you were a tangled ball of yarn, each day bringing a new section of yarn to be worked, with love and patience and acceptance. Each day you practice a surrendering to the emotions that rear, and an openness to receive the lessons they offer.
Meghan will teach you to tap into your authenticity, your truth. She will show you that at the very heart of your tangled ball of yarn is something very important, some golden thread of wisdom that only you are able to reach, and pluck out, and show to the world.
https://www.meghancurrieyoga.com/
https://www.instagram.com/meghancurrieyoga/
Yoga Village Capucines
39, boulevard des Capucines 75002
Code porte: 7205
Stations de métro, Madeleine ligne 8-12-14
Station Opéra:  3-7-8
Station Concorde ou Tuileries ligne 1
Yoga Village Batignolles
155bis, rue Cardinet 75017
Station de métro, Cardinet ligne 14
Station Brochant ligne 13
Station Pont Cardinet ligne L
Mentions légales et crédits